Join Tamalpa Core Faculty member Rosario Sammartino as she speaks and responds to your questions about the structure and content of our Level 1 Weekday Online Training Program in 2023. Tamalpa's Program Coordinator, Amy McGrath, will also be present to answer any administrative questions you might have. Join Rosario and Amy to get answers to your questions about the Tamalpa Life/Art process, all three levels of our professional training program, Tamalpa Practitioner Certification, professional registration with ISMETA, degree pathways, the ArtCorps scholarship program, and anything else you might want to know about our trainings.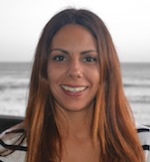 Rosario Sammartino, Ph.D., RSME, RSMT, is a therapist, artist and professor in the intersecting fields of expressive arts, somatics and depth psychology. Rosario is core faculty of Tamalpa Institute, where she trains an international student body. She lectures and teaches nationally and internationally. Rosario is an adjunct professor at Meridian University and at CIIS; as well as the founder of Anthropos Institute, an Art and Self Development Center located in Buenos Aires, Argentina, where she is originally from. She has taken her work to psychiatric hospitals, shelters, and educational centers, bringing innovative models for health and creativity to diverse populations including incarcerated women, the homeless, and at-risk youth.
Amy Lynn McGrath has danced and performed her entire life. She holds her B.A. in theatre arts, with a dance concentration, from Sonoma State University and has been teaching dance for 24 years. A native of the San Francisco Bay Area, Amy has taught dance and choreographed musicals all over the country.  From 2008 to 2013, she was the proud owner of McGrath's Performing Arts Academy, a dance studio in Sonoma County. She also co-founded the non-profit organization STAR Kids, a musical theatre company for children, and has taught for other non profit organizations in Northern California. Amy currently teaches dance and choreographs throughout the Bay Area and is extremely excited to be a part of the Tamalpa Institute team. Her favorite "job", however, is her role as Auntie Amy to two of the greatest growing young men.