4 Mondays, February 7 -28 | 10am-11:30am Pacific Time | $65
We begin by giving ourselves restorative touch to relax, to release excess tension, and to allow ourselves to become more receptive to bodily sensations. We find support through our bones and breath, activate expression through our heart and muscles, and heighten sensitivity through our skin. Weaving sensations and imagery, we invite flow and pleasure to come forward in our dancing. Drawing and writing reveal insights about who we are in our path to restoration.
No dance experience required. Please create a comfortable space to move and have drawing/ writing materials on hand.
Please note: Tamalpa does not record nor permit the recording of any classes or workshops due to the sensitive and sometimes vulnerable nature of the work, and to protect student privacy.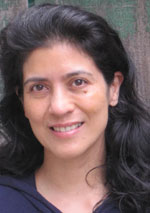 Joy Cosculluela, RSME, MFA, CMT is a performing artist, choreographer, bodyworker, and somatic movement educator.  Joy is a Filipino immigrant working with themes of belonging, identity, home. She is artistic director of Wayfinding Performance Group, a multicultural group of artists in San Francisco and has presented numerous works in various venues. She has performed with Anna Halprin & The Sea Ranch Collective (Seasons, Spirit of Place, Parades and Changes). She continues to find joy and inspiration through collaborations with various Bay Area artists (Diana Lara, Christine Germaine, Laurie Buenafe, Stacey Goodman, and many more). Joy is director of Performance Lab SF, where she offers classes to encourage creativity and is also co-director of EAR to the Ground Productions, an organization that holds street performances in response to current events. Joy holds a Master's in Fine Arts in Interdisciplinary Arts from Goddard College and is core faculty at Tamalpa Institute. wayfindingperformance.com.
Payment
READ BEFORE YOU PAY: After paying via PayPal below, you will automatically be directed to a Zoom Meeting Registration Page. You must complete the information on the Meeting Registration page in order to receive your Zoom link for the class. If you do not receive an email from Tamalpa Institute Workshops with your Zoom link, please email Workshops at Tamalpa at least 30 minutes prior to the start of the workshop.
$65/series
Deadlines:
Registration closes 8:30AM Pacific Time on the first day of the series
Refunds will only be given if cancellation is received at least 48 hours before the start of the first class