5 Wednesdays, March 2-30 | 9am-10:45am PST  | $95 for the series
*Note: U.S. daylight savings time change happens on MARCH 13th

From a physiological perspective the human heart is an organ central to the circulatory system. From an archetypal perspective the human heart is an organ central to our imagination, intellect, and aesthetic sensitivity. The intention for this 5-week series is to explore, express, embody, and bridge into your life, the wisdom of your own heart. Participants will enter the somatic, imaginal, and relational realms of their heart and will learn that there is a connective tissue, a fluid rich membrane, between those realms. At the end of the series participants will gain embodied and creative resources to cultivate a practice of connecting with the heart, speaking from the heart, listening to the heart and, most importantly, trusting the heart's wisdom in their day-to-day lives and relationships.
No previous art experience is necessary.
What prior participants have said:
"Marialuisa's work has provided rich nourishment for my mind, body and soul in it's unique blend of theory, practice and spiritual depth.  She offered scientific knowledge as a scaffold through which to enter somatic experience, which in turn acted as a gateway into a deeper connection with myself and the mysteries beyond. Her gentle focused presence, attentive listening and heartfelt aesthetic responses created a safe and trusting space despite the limitations of an online connection." ~ 
Katy Menell
Artwork by Judith Klein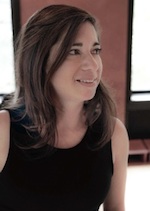 Marialuisa Diaz de Leon, MA, REAT, RSME/T.
Therapist, movement specialist, mythologist, educator, researcher, and performer born in Guadalajara, Mexico. Marialuisa's professional experience in psychology, somatics, and the arts spans over twenty years and includes work in education, private practice, and community intervention. She served as Program Director at Tamalpa Institute and is rejoining the faculty for the Level 1 training program. Marialuisa is the creator of Mythic Life: 
Embodying Wisdom, Beauty and Courage
 where she brings her expertise to work with women empowerment through a forward thinking integration of myth, arts, somatic movement and archetypal psychology(
mythiclife.net
). She is on faculty at SouthWestern College in Santa Fe, NM and holds the office of President for the ISMETA Board of Directors.
PLEASE NOTE: After paying via PayPal below, you will automatically be directed to a Zoom Meeting Registration Page. You must complete the information on the Meeting Registration page in order to receive your Zoom link for the class. If you do not receive an email from Tamalpa Institute Workshops with your Zoom link, please email Workshops at Tamalpa at least 30 minutes prior to the start of the workshop.
Payment
$95/series
For security purposes, you are required to have a registered Zoom account to attend a Tamalpa Institute workshop.  You can join Zoom for free by visiting their website HERE. If you are not a registered Zoom user, you will be unable to join the class.